See all photos online at:
https://plus.google.com/u/0/photos?tab=mq#
We Celebrated Women Life and Liberty Jan. 26, 2013!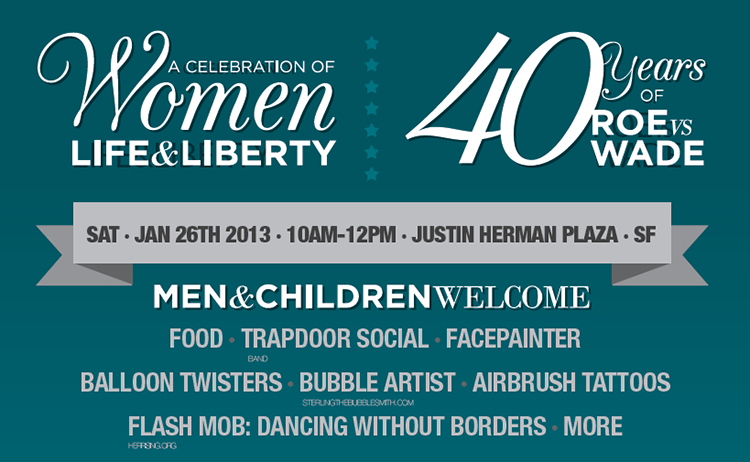 ORGANIZATIONAL CO-SPONSORS: AAUW-SF – BACORR – Breast Cancer Action – CA Nurses Association/National Nurses United – California Family Health Council – CARA – CA Public Health Assn.- No. – CA Religious Coalition for Reproductive Choice – California Women's Agenda – Code Pink – CPEHN- Credo Mobile – Democratic Women in Action – Democratic Women's Forum of San Francisco – Emerge CA – EQUAL Health Network – Filipina Women's Network -Friends of the San Francisco Commission on the Status of Women – Health Access – Ignite – Isis – Men Who Trust Women – National Council of Jewish Women SF – Next Steps Marketing – Plannd Parenthood Affiliates of CA – Raoul Wallenberg Jewish Democratic Club – SF Dept. of Public Health – SF Dept. on the Status of Women – SF NOW – SF Older Women's League – SF Women's Political Committee – Trust Women/Silver Ribbon Campaign – UniteWomen.org.CA – Women's Building of San Francisco – Women's Intercultural Network – Women's Resource Center at City College SF
Thank you!
~~~~~~~~~~~~~~